Landing Page Optimization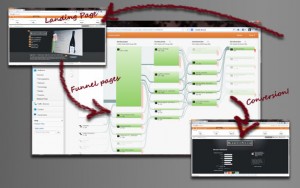 Generating traffic to your website does you no good unless your users stay and then take the action that you are trying to get them to take. Our landing page optimization service will help you understand where users coming from what pages are landing on and where they go next.
If you are running an Internet marketing campaign this is a very important component of your success. If the user clicks on add and then lands on a page, but the page doesn't match the user's expectations you have probably lost them. Thus wasting marketing dollars. Often times you'll be surprised by what your audience responds to best for calls to action, color combinations, direct response wording and page layout.
Here is an excellent slideshow about different landing page optimization factors and how you can increase conversion for your landing pages!
We can help you with insight into your analytics, your landing pages and your conversion mechanism. Landing page optimization involves split testing or multivariate testing various elements on the page. We have successfully increased conversion rate on some of our pages by 240%. Imagine what doubling your conversion rate would do for your bottom line…
In Our Toolshed