App Developer for iOS & Android
Its a mobile world
Some of our clients get more than 60% of their online traffic from mobile devices.
There is an app for that!
Got an idea for a new app or an idea on how to improve upon an existing one? Let us help you bring your idea to fruition using our application developers. We can help you concept, design, program, release and monetize your app.
Let our teams expertise help you understand how apps work and walk you through the development process.
App Development Expertise
Nuzu Net Media has designed and developed mobile applications for iOS, Android and other popular application platforms. We have also developed html5 applications that are compatible across platforms via the browser.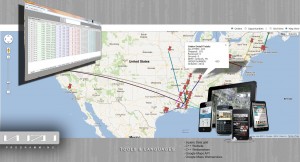 An example: This application helps a company in the construction business. The application allows a driver to use a smarphone or iPad camera to scan in barcodes on their load to register that they picked it up and are in the process of transporting. Once they deliver, they rescan to update the status and use their signature as signoff.
We help businesses connect the dots via application programming interfaces that work from back office to front line.
We have helped connect a clients website and inventory system to their CRM (Salesforce). We have also done quickbooks integration with e-commerce web applications.
Popular app development platforms we work with:

PhoneGap
BFAC
React Native
Give us a call to discuss your idea today! 601 750 1909
In Our Toolshed