Our Online Marketing Methodology for Business
Nuzu Online Marketing Methodology
You can thin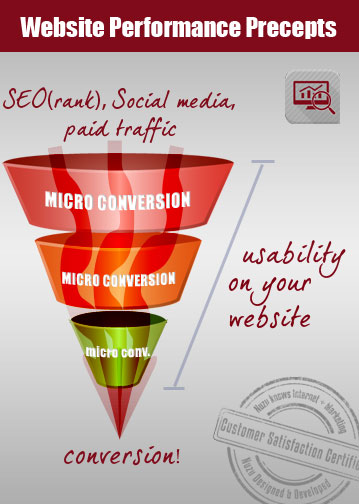 k about your website like a funnel.  At the top of the funnel, you have all of your marking inputs:  Direct traffic, word of mouth, traditional advertising (radio, television), social media, PPC (paid online traffic), SEO (natural search results).
Once a user lands on your website from the channels above, the website needs to speak to each of your target audiences.  It must allow them to get to the information that is most relevant to their interest quickly.
Then, depending on what you have defined as a conversion, you want to get a user into your conversion process and allow them to convert with as few roadblocks as possible.
So this means that you must focus on 3 key areas:
On search engine performance
Speaking to your audiences (usability & accessibility)
Conversion
Creating value online
In our experience having worked on hundreds of websites for clients, concentrating on these create long term exponential value.
Our goal is to have your website represent the authority you possess as an expert in your industry. It takes time to train the search engines and get them to recognize this authority.  It is not automatically granted.
Thus, for your website to be the most effective marketing & information tool it can be, you should build upon your "online real estate" platform on an ongoing basis.  Google and the other search engines want to see steady organic growth and the presentation of authoritative information (your website must be the source).
"The concept is similar to compounding interest.  You keep building slowly over time and in the end, you get much, much more than you put in." – Travis Finseth
Thus, to create long term value, we have configured our business around these concepts.  We are not interested in simply building a website and handing it over without performance objectives.
Additionally you get the benefit of having access to a team of Internet industry experts, along with keeping the website up to date with the latest technologies and design trends on an ongoing basis.
That being said, our methodology does not fit all clients.  Often times, we may not be the best match for your requirements.  But, regardless of who your service provider is, we are always here to help and answer questions/provide insight on best practices.

Travis Finseth is the owner of Nuzu Net Media, a full service digital marketing agency in Jackson, MS. He can be found on Twitter, Facebook, Pinterest, and Linkedin, but more typically at home with the beautiful wife and three kids... or on the basketball or volleyball court. More about Travis...
Linkedin
|
Facebook
|
Pinterest
|
Twitter