Bass Pecan Tree Nursery – BassPecanTrees.com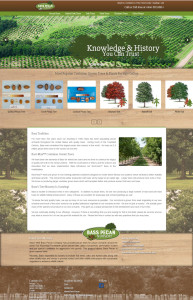 We just completed a new e-Commerce site for Bass Pecan Tree Nursery here in Madison Mississippi. We are currently managing website design, SEO & PPC for this new site and for their older retail site.
Bass Pecan is one of the oldest orchards in the United States. In the past few years they have branched out to include a tree and plant farm and Nursery. They specialize in growing pecan trees, oak trees, hybrid oaks, fruit trees, chestnut, apple, pear, blueberry, blackberry and many more. Bass Pecan Nursery uses a proprietary patented RootMax growth system that allows for low input container grown trees to thrive and have more success once planted.
Hybrid Oak Trees Available from Bass:
Beadle's Oak
Compton Acorn
Compton Oak
Shumard Pen Oak Acorns
Shumard X Pin Oak Hybrid
Shumard Water Oak Acorn In shell
Shumard X Water Oak Hybrid
Nuttall Water Oak Acorn In Shell Nut
Water X Nuttall Oak Hybrid
Bass pecan also offers whole pecans and shelled pecans and all kinds of other pecan treats.  We can attest to their freshness and awesome flavor!

Travis Finseth is the owner of Nuzu Net Media, a full service digital marketing agency in Jackson, MS. He can be found on Twitter, Facebook, Pinterest, and Linkedin, but more typically at home with the beautiful wife and three kids... or on the basketball or volleyball court. More about Travis...
Linkedin
|
Facebook
|
Pinterest
|
Twitter