Parryscope Fertility Testing – Parryscope.com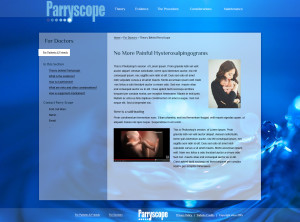 Congratulations to Dr. Preston Parry on the release of the new website that outlines the Parryscope technique. The Parryscope technique is a replacement HSG test that is effectively pain free and just as effective as the old hysterosalpingogram.
The website uses a video background and includes sections designed for both doctors and patients.
Features:
WordPress CMS
Custom Template design
Keyword research & SEO
Video background website

Travis Finseth is the owner of Nuzu Net Media, a full service digital marketing agency in Jackson, MS. He can be found on Twitter, Facebook, Pinterest, and Linkedin, but more typically at home with the beautiful wife and three kids... or on the basketball or volleyball court. More about Travis...
Linkedin
|
Facebook
|
Pinterest
|
Twitter