Why Google cares about Authorship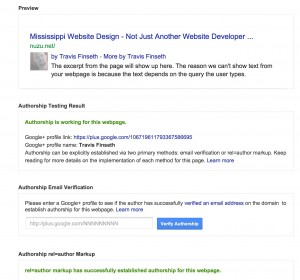 What is all of this author rank mumbo jumbo you say?
Author rank boils down to the following points:
Search Engines (like Google) value original content
Search engines fight a constant battle against web spam
Google wants google+ to proliferate throughout the social landscape
Authorship creates accountability
So what does authorship mean for website owners?
Owners need to continue to create content.
Getting your image into googles results will help click through rates… Especially if you are good looking…!
There is a new way to influence search results.
Content is still king.
Reposting others content doesn't make you a source, but you does help the original author… Quid pro quo. Better create a social media buddies list! Sumddies rule!
How do I set up Authorship for my website?
1. Link to your google+ profile from your web pages using rel=author
2. Verify that Google sees the authorship reference – via webmaster tools and the structured data > rich snippets tool
3. You can also add the meta author tag.
In Our Toolshed